A Cat Cafe in Downtown Orlando

A Cat Cafe in Downtown Orlando
About Us
The Kitty Beautiful, downtown Orlando's cat cafe, is open 12-6 Wednesdays to Sundays, closed Monday and Tuesday. We strongly recommend reservations on weekends. Our food and drink menu is available and we require face coverings. We are located at 360 State Lane, between Livingston and Robinson, one block west of Orange Avenue. And we finally, after two years of construction, have street parking available again as of August 12th. Up to a dozen metered spots are available at $1/hour, free on Sundays. Most adoptions are $100, $125 for cats under 1 year old, and $50 for senior cats 7 and older.

For the most up to date information, follow us on Facebook. If you have questions please contact us at thekittybeautiful@gmail.com.
What is a cat cafe?
On one side, our cat cafe is just a regular place to get pastries, coffee, teas, freshly made organic juices, kombucha, locally sourced snacks and beer and wine. It's a place to bring your laptop and use free Wi-Fi while you enjoy a good morning pick me up. Order a drink from our friendly purristas. Or a place to unwind during a busy day.
But the other side of a cat cafe is that it is an attraction where cats can be watched and played with.
Patrons pay a small cover fee and go into a separate room to play with and hang out with a bunch of free roaming, fully adoptable cats.
The world's first cat cafe opened in Taiwan in 1998. A few years later, they started to open in Japan, which is where the concept took off. The concept spread to Europe and then to the United States in 2014. Cat cafes in the United States differ from those in many other countries with their focus on adoptions. So you can come down to a cat cafe, grab lunch or a snack, get a coffee, go play with cats, and if you fall in love, adopt them and take them home.
Cats
We host cats from our adoption partner, CATS CAN. All of our cats are spayed/neutered, tested for feline leukemia and feline aids; administered age appropriate vaccines, treated for parasites, and all microchipped. And they are adoptable!
Coffee
Coffees, tea, hand crafted sodas, freshly made organic juices, beer and wine, sandwiches, soups and more! A great place for a quick drink or snack even without the cats!
Community
A place to come and relax, use the Wi-Fi, play a board game, borrow or leave a book from our free library, and connect with people as well as felines. Cat Yoga, "mewvie nights," local artists and more.
Bongo

House Kitty!

Age: 3
Male

Tiera

Age: 1
Female
Arrived: 4/24

Candy

Age: 5
Female
Arrived: 10/17

Blossom

Age: 1
Female
Arrived: 11/7

Kia

Age: 11
Female
Arrived: 11/12

Skittles

Age: 6 mo.
Male
Arrived: 11/12

Kevy

Age: 4
Female
Arrived: 11/20

Vanilla

Age: 5 mo.
Female
Arrived: 11/20

Georgie

Age: 8 mo.
Male
Arrived: 11/20

Mushu

Age: 6 mo.
Male
Arrived: 11/20

Jacque

Age: 7 mo.
Male
Arrived: 11/24

Jacob

Age: 6 mo.
Male
Arrived: 11/24

Tony

Age: 1
Male
Arrived: 11/28

Noel

Age: 1
Female
Arrived: 11/28

Apollo

Age: 8 mo.
Male
Arrived: 12/2

Drago

Age: 8 mo.
Male
Arrived: 12/2

---

We have had 227 adoptions

since we opened November 2019.

We love our alumni and welcome updates from their new fur-ever homes.

Thomasina
Curious
Kohl
Bette Davis
Pincachy
Mochie
Buttons
Silvia
Asparagus
Loki
Lemonade
Gem
Monty
Tigra
Hope
Fancy
Romeo
Dexter
Lucy
Joy
Bubba
Doris
Dill
Paris
Amy
Brie
Lydia
Al
Raymond
Gina
Gobi
TT
Stratus
Cumulus
Minnie
Tayla
Ming
Toby
Khaleesi
Mumsy
Mims
Otis
William
Painter
Harry
Trina
Lavender Brown
Isabel
Big Red
Dara
Vincent
Scottie
Mason
Shanti
Harry
Caddy
Faline
Hazel
Marley
Annie
Savin
Mustard
Spirit
Emma
Chris
Noodles
Gizmo
Toby
Kelly
Oodles
Rey Rey
Kimchi
Lily
Kris
Shilo
Kisses
Jellybean
Licorice
Carissa
Roscoe
Moose
Samson
Sawyer
Scout
Teddy
Lavalette
Julius
Bru
Biggy
Umi
Lady
Pickles
Florrie
Tilly
Melody
Connor
Beatrice
Ava
Adeliza
Oreo
Ginny
Peter
Liddy
Jellybean
Licorice
Cricket
Apon
Harlem
Joachim
Smoochie
Charlie
Jasper
Gabrielle
Lexi
Valentine
Chelsea
Whitney
Mabel
Rubeus
Misty
Oscar
Missy
Ripple
Trouble
Brittany
Dandelion
Pickles
Willow
Gingy
Marmalade
Cleo
Julius
Beth
Candice
Lola
Miley
Willow
Apricot
Frances
Winnie
Emma
Casper
Mochi
Smokey
Sammy
Scar
Tiger
Jeans
Rudy
Mindy
Luna
Marley
Edgar
Nevada
Fetcher
Berty
George Michael
Isabella
Theo
Jack
Hazel
Mitzi
Louie
Georgie
Susie
Zara
Snowball
Faith
Milly
Butterscotch
Christopher
Smokey
Peaches
Jenny
Larry
Louie
Moritz
Dott
Mystique
Cora
Onyx
Christopher
Rocinante
Tortellini
Buster
Barry
Treasure
Max
Gabby
Kira
Lola
Delilah
Dandelion
Mattie
Zuri
Slippers
Minnie
Harry
Gracie
Bridget
JJ
Precious
Sierra
Butterfinger
Eli
Creamsicle
Carmella
Tiger
Jesse
Pudding
Lurch
Mousse
Wednesday
Morticia
Jesse
Cricket
Goober
Patches
Amelia
Alfie
Banjo
Squints
Stanlee
Snapdragon
Dot
Angel
Jade
"Cats are connoisseurs of comfort."

James Herriot

"The smallest feline is a masterpiece."

Leonardo da Vinci

"I have lived with several Zen masters - all of them cats."

Eckhart Tolle
Press
People are talking about The Kitty Beautiful.
Reservations
You can make reservations for cat time and special events online. We strongly recommend reservations on weekends.
Reservations for Cat Time and Other Events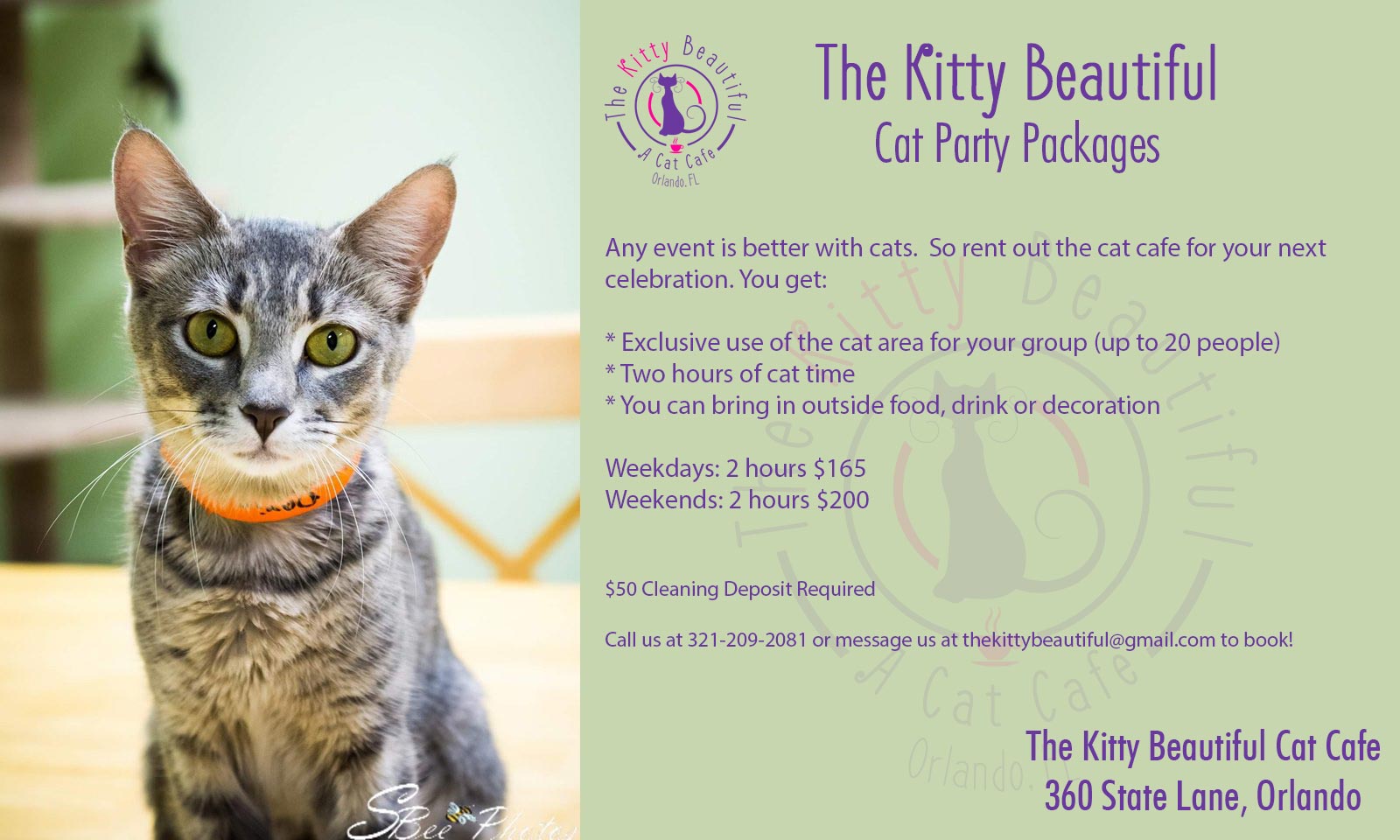 Contact Us
Get in touch with us!